Bad Samaritans SC present our 10th annual excursion into the wilds of Donegal. We return to The Glen Hotel on the fantastic Arranmore Island.
This great location is just up the hill from the pier, has ample parking out front for scooters and bikes as well as loads of room for lazing in the sun and a great sheltered campsite below the picnic area with easy access and plenty of room for anyone wanting to bring their car/campervan. They serve breakfasts and food all day. It`s the perfect all-in-one venue.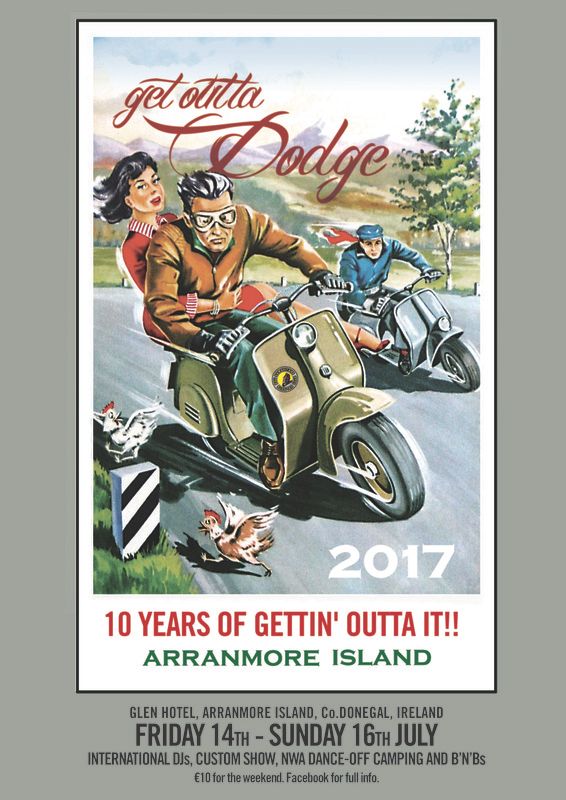 We`ll have the main room for the tunes spun by our guest DJ`s and the Badsam Massive and the lounge bar if you want a chat and quiet pint in front of the fire. Don`t forget Smugglers Disco, round the corner, for the all-night party people!!
Go for a spin round the Island for some spectacular views or a pub crawl along the shore. We don`t clash with Swell festival this year so there`ll be plenty of room on the ferries.
We will have our usual ferry deals.
Weekend pass is €10.
B&Bs for Get Outta Dodge 17, all near the venue:
Claires....................0035374-9520042
Glen Hotel.......................... -9520505
Madge..................................-9520579
Annie Pearse........................-9520517
Frank @ The Hostel.............-9520015
Earlys B&B ring Pat on 00353868054246