I First brought this lambretta 28 years ago In 1987 (ish ) aged 17/18 . A '64 pacemaker ....My first lambretta.. And I'm lucky enough to own it again now......
This is abit of MY personal history with this lambretta... I'm sure others have their story to...
If your easily bored don't read on... It's long! .......having said that I've actually only skipped though the story quickly.......
.... I first saw this 150 special/pacemaker in 1987/88 when it was owned by a couple of mates in my club but was soon sold to Trevor goodalls motorcycles in didcot (Ex lambretta dealers then Vespa dealers ) after it had terminally blew up (big end bearing cage fell apart ), but this was the first time I had had the opportunity to buy it..... there it was ....no panels or floorboards, 175, ott fresco and 28mil dellorto ,white with red horncast ( in damn pretty good nick ) 17 year old scooter boys dream!!........engine was seized tho! £150!.
Shame I only got paid £70 a week at the time so had to borrow 2 weeks entire wages off my dad...
Think I put down a fiver deposit and took the balance in the next weekend.... Got the bus over to didcot and pushed the flipping thing 7 MILES back home!! 7 MILES!! Loved every minute tho , Beaming smile the entire way! .....
This was the first engine of any kind I'd taken apart personally (I'd brought new brand new vespas prior so no need to strip um) , so just got stuck in and stripped it, the big end had fallen to bits -so next scooter rally I bought a second hand crank for £5

, boshed it back together and it started 2 or 3 kick and ran beautifully ..... Which was a great surprise to me!!!!! ....And my dad who had been watching me put it together out of the window.. No manual , no experience in working on any engines ever ...... I'd found something I was good at naturally..... And that ended up setting me on the road to being a qualified mechanic ,,,,,and my entire career path to this day....
Anyway I Rode it round locally for a while in white and red before it dropped a ring !-the ring peg fell out of the piston and the bottom piston ring (2mm cast) escaped out of the exhaust port... Luckily not damaging the barrel , and with that I decided to strip the whole scooter and customise it!.
........Well I say customise.... Black rattle cans and a bit of chrome on the engine! With a snetterton and t piece ..... And a full engine rebuild!.... Money was tight tho... Made my own wiring loom from scratch! Chrome and seat were second hand
That's when I got confidence on it to start riding it looong distances not just local ....to rally's instead of my t5 or p200...
Think that year I did exmouth (300 miles?), Morecambe (500 miles?), Margate (260) , Rhyl (470miles) etc etc
And so on for the next 5ish? Years... Using my p200 for a lot of rally's when I was 2 up or with a load of other p2s/kitted vespas , but this special did it's fair share...usually got left behind tho! - it wasn't the fastest!, The Only time it let me down was a very wet n rainy morecambe when (after some pre rally maintenance I'd lost the screws that hold the stata wire seal plate on..... Water got into the stata and when I went to start her up she wasn't sparking ..... Got the aa all the way home ..... Got home and the fecker started first time!!, that and my fresco actually fell in half on the way back from Weston super mare.... Still ..carried on and rode all the way home with half an exhaust!- it didn't run great but got me home!....... .oh.....and the time it got 2 punctures in a row and I had to spend the night sleeping in a ditch in Wales till some scooters stopped to lend me a spare wheel !...... Apart from that she was as good as gold!
The early 90s and thatchers boom and bust saw me get made redundant for the first time ever.. And with it redundancy pay ... A lot ... Blew most of it on a proper spray job for my special... Black of course!! And another full strip down and loads of chrome.. Chrome forks , hubs, rims, entire engine, tank, toolbox, rear mudguard, new chrome ott fresco mmmmmmm
A trip thru Europe beaconed ... The idea was to join up with the hot knives (outstanding 90s ska band for those that didn't know) on the last part of their European tour... But timings were tight... And I finish the rebuilding the special the day before .... Only to find I'd made a schoolboy error and put the 3rd gear in round the wrong way! Doh! Wouldn't stay in gear, now these days I could have sorted that out in half a day but then it took me a day to identify the problem! , so I was a good 2 days behind by the time i was on the ferry to Calais !!, so I thought sod it and just rode thru France, Belgium and Holland site seeing before camping out in Amsterdam cafes for 3 days , think I was away for 8 days? Riding thru Europe on my own ( never been abroad before except a day time to Calais with school!), did ALOT of thinking and came back abit if a different person.....
Early 90s also brought acid house , madchester and the rave scene... Which made the scooter scene look very dull and insular by comparison!..... And inevitably I was drawn into it.... I did keep my special for a long time after and used it for work and getting about etc but needs must and in about 93/4? I sold it to finance restoring a bay window vw camper...
Round 8 years I'd owned it and been everywhere... EVERYWHERE on it........
Fast forward to 2007 ish 13 years later and I was in a scooter shop in Newbury when I over heard someone offering a scooter for sale ..... A black and chrome special huuuuummm!, got the details ... Went round and sure enough my old special!! ....
In the intervening years since I brought it back I've been collecting original parts to rebuild it once more... One last time!,
I traced old owners and found the original engine case *725083* in a mate (sashas) loft !
I haven't got any pictures left of when I owned (i never really took many pictures in the 89s which I really regret), but iv traced and collected other owners pics....
1st owner (camberley)
2nd owner Shane (lives near me) he brought the special as a wreck and his dad (an old lambretta mechanic ) restored it in 80/81. Using lot of nos bit inc the legsheilds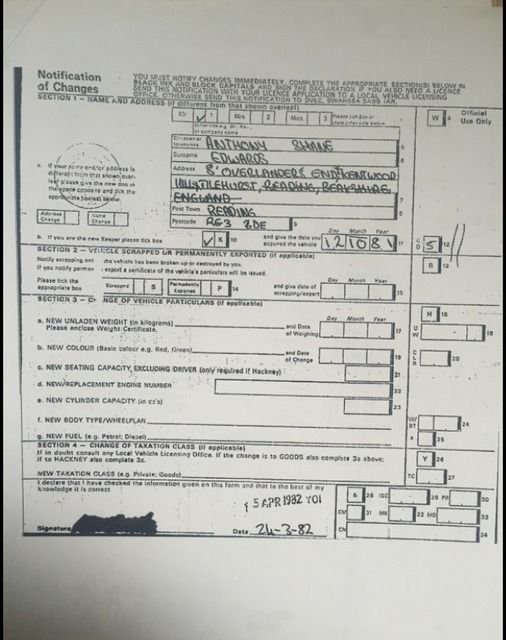 After resto in '81
Tilehurst sc in the very early 80s- my special at the back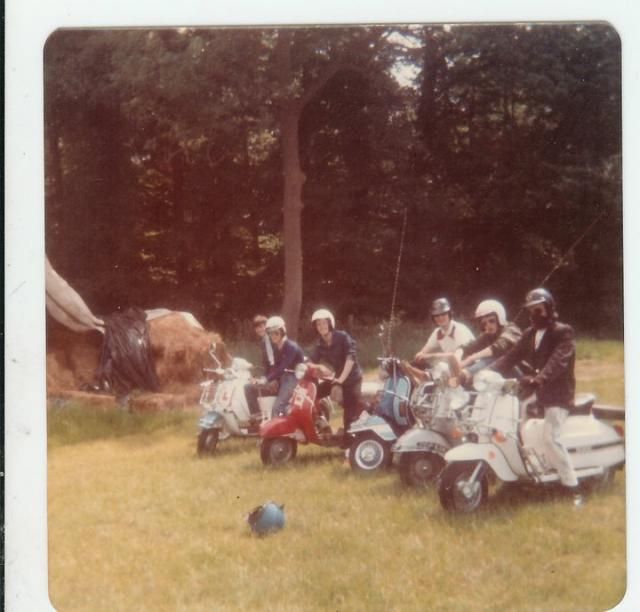 Lambretta Euro '97,
this is the owner after me , my mate Sacha who took it back to the innocenti factory on route to lambretta euro 97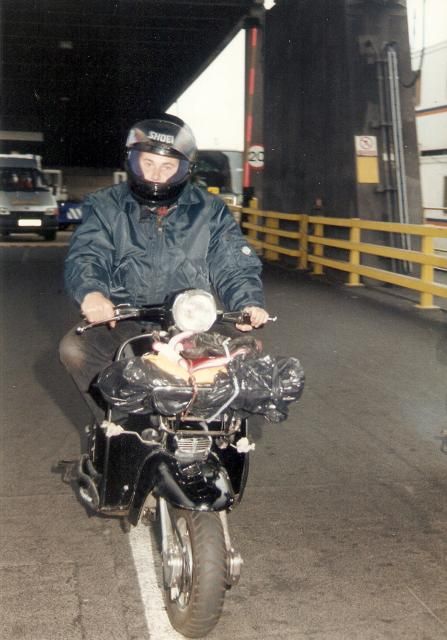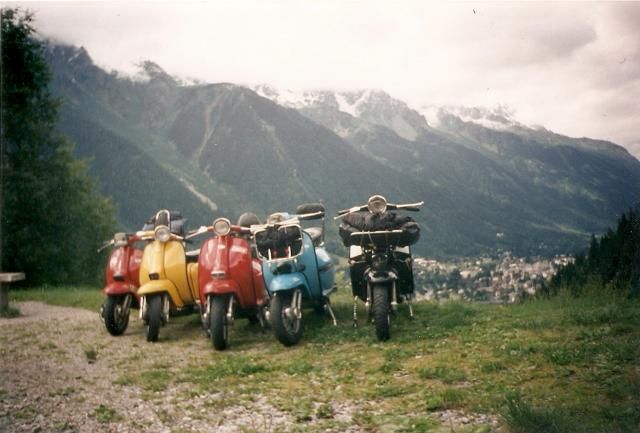 URL=http://s306.photobucket.com/user/green-sx/media/dph130b/scan0041.jpg.html]
[/URL]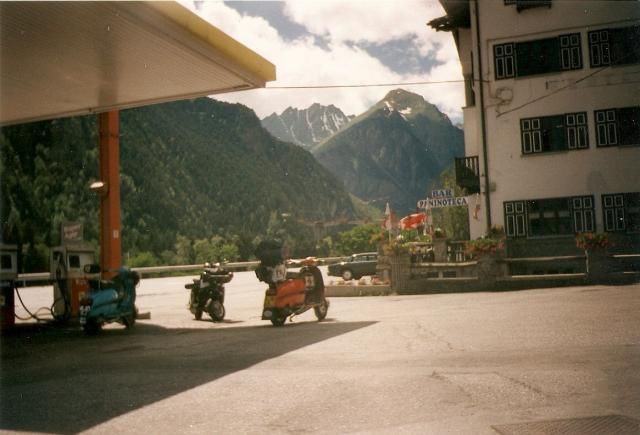 By chance Of being in the right place at the right time I overheard her being sold and nipped in and brought her back.
How I got her back... Been sat for a few years!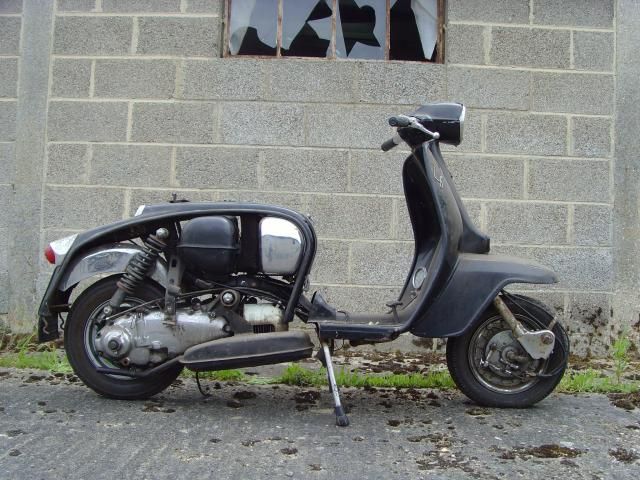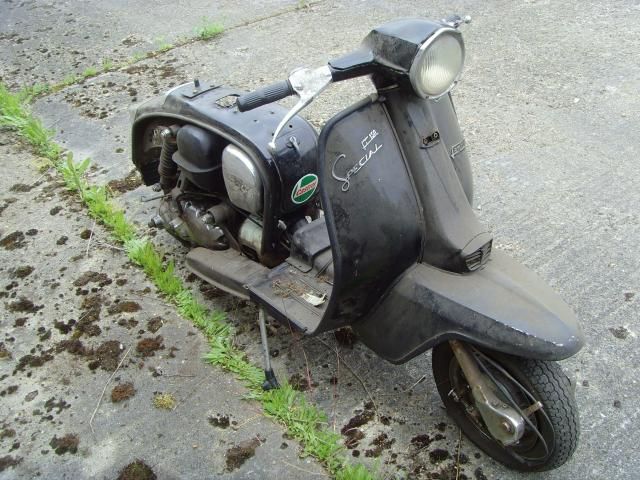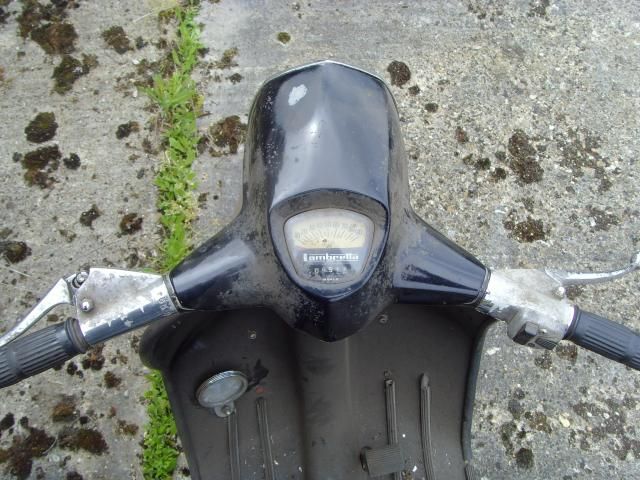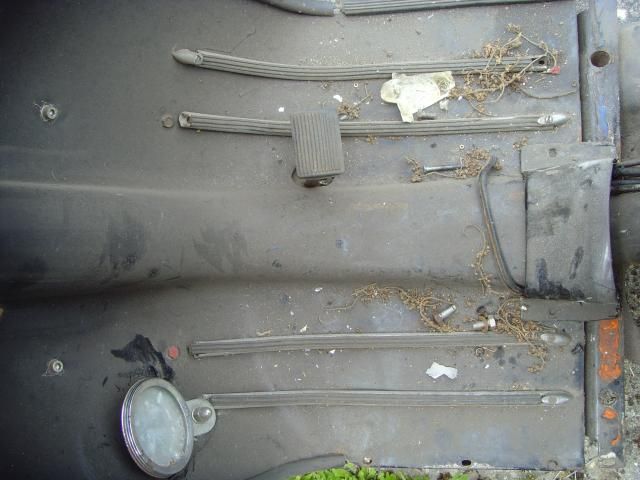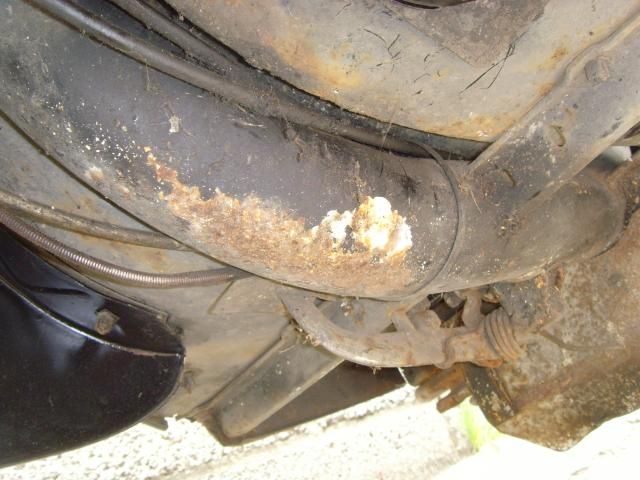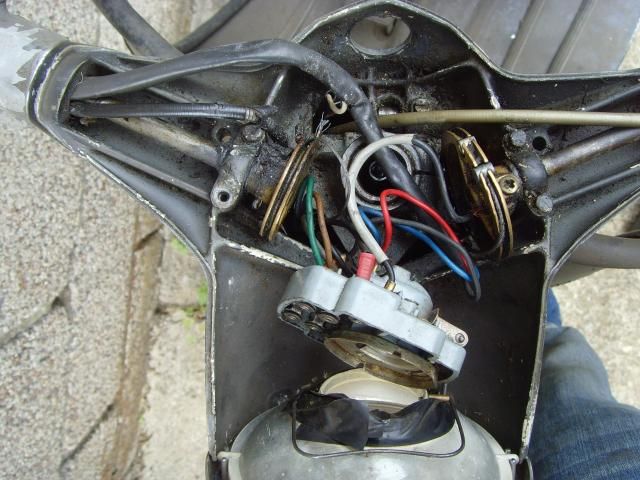 Few bodges and non original/ wrong parts have been fitted over the years.... I'm as guilty as most..... The innocence of youth!!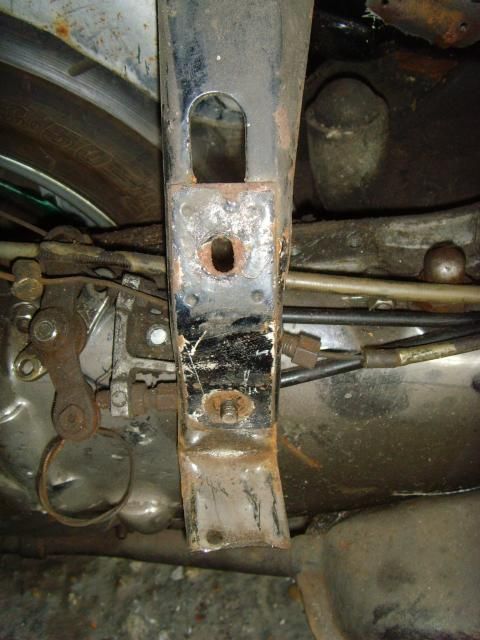 The strip and dry build starts, the plan is to rebuild using as many original parts as humanly possible...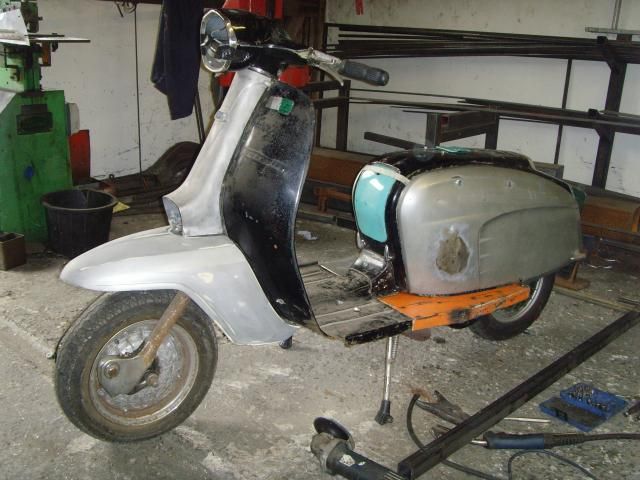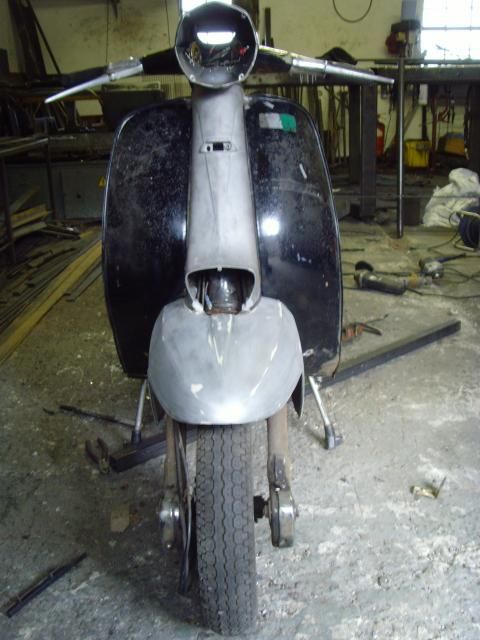 Non Chrome ring on a chrome ring ... I didn't want to get rid of most of the parts that were on the scooter when I first owned it so but wanted it to be right so iv made good the original ill fitting parts- leggys, floorboards etc ..