Lambretta Life

For most owners of a Lambretta scooters they become involved with the whole scootering way of life, from sporting trials and to rallies, and restoration to customisation there is always something happening with your Lambretta!

There is nearly always some event happening on most weekends, whether local, national or international, the calender of events is wide and varied. Scooter jumbles, custom show, weekend events are just a few to choose from. The LCGB runs a Best Supporting Member Championship whereby its members who attend the most rallies or events can win trophies or awards for their achievements on riding their scooter.

On the message boards, we have a section dedicated to events, so if you are stuck you could try there, or any of the Scootering press magazines. One event always held annually is the Lambretta Jamboree, this is held by a different national Lambretta club each year, and is a chance to meet fellow like minded enthusiasts.

For restoring, tuning and other tips and tricks you can consult the workshop section of the site to help and guide you in those days in the garage/workshop. Again the level of personalising or customisation under taken by many Lambretta owners can be so wide and varied. Making the Lambretta as fast as possible, customising by chrome accessories with lights and mirrors, or exotic paint work with engraving and chrome work is also a hobby that can evolve with your passion for the Lambretta.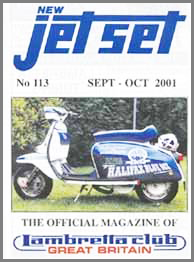 Jetset is the LCGB's own club magazine, sent out to all members. Whist this web site aims to provide you with news views, and articles it does and will not ever replace the clubs magazine. Each year the club sends out 6 issues, with all the top stories of the time.
Details of the Superdealers, rallies, short stories and articles as well as many members scooters, both pictures and write ups.

The Lambretta Scooter Collection
The LCGB's collection now consists of many Lambrettas and details on this page are in the process of being updated. Scooters include :-
The final G.P.200 to come off the Indian production line (donated to the club by Ray Kemp at AF Rayspeed)
A LAMBY POLO (donated by Mark Haines & Richard Lawrence at Bedlam Scooters) again one of the last batch imported from API in India.
In addition to these we have two fully restored LUNA LINE scooters, a VEGA 75s and a COMETA 75sl and a J50 (courtesy of Pete Merchant Scooters). The LCGB collection is owned by you, the members
Members Scooters
Yussef Nimmers current SX200, Yussef wrote "My first SX200 was bought in 1972-3 for the grand total of £49.50p from 'Matt Newtons',Mbro or was it 'Tillsons' Thornaby!!"
Leo from Preston sent in a picture of his MODified Series 2.
Alex sent in a picture of his SX200!
Before and after photos of Geoff Probert's Li 150 series 2 .
Jeff tells us "I enclose two photos of my 1960 vintage Li150 S2 following a winter of discontent and nut-and-bolt restoration work. My first scooter, or restoration project for that matter. It's a british bike, one previous owner - my great aunt. I uncovered it in her garden shed, where she'd parked it up one sunny day in 1980. I think you'll agree it's come up real nice."
A picture of two scooters, one owned by Matthew Jefford, which is the white GP125, and the white and yellow TV175 is owned by Matthew's friend, Barrie Spears, both members of the LCGB!
Dean O'Brien's GP200.
Dean's scooter features in the models section of this very site, what a nice example of the GP. Dean is from Coventry. The bike is a fully restored Lambretta GP200 Electronic 1969. Reg no - RVP 458G.