The Americas Lambretta

With thanks to Carl Kruger from San Jose, CA, and Gustavo Casanova from Argentina for the pictures in this article

South American Lambretta History
Lambretta had a thriving market in South America with production in four countries. From the 1950's to the 1970's, South America represented Innocenti's' largest market outside of Europe. South America's story is a tale of both strange names and strange scooters. This history of this market is something of which their has very little written and documented about with only the haziest of outlines known.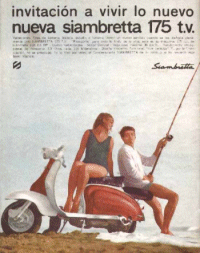 Like so many other things connected with Innocenti, the tale is of possibilities and lost opportunities that were never fully realised or exploited. The first Lambretta's produced in Latin America were the D models made by the Argentine firm SIAM starting in the early fifties, and these scooters were christened Siambretta.

Argentina had a long history of large scale Italian migration which resulted in close business ties between Italy and Argentina. Innocenti, in particular had for many years a large steel tubing subsidiary in Argentina, but by the early 1950's many of their products were obsolete. In 1947 Argentina brought a large batch, possibly as many as 2,000 unsold model A Lambretta's. The deal that lead to the production of Siambretta's appears to have been fostered as least in part through connections (for bribery) with Argentina's famed dictator Juan Peron. SIAM later give (or was forced to give) 75 Siambretta D's to Peron's youth group for use in parades. LD models were soon added to the Siambretta range. In the early 1960's SIAM began producing a version of the Li / TV Series two, but with a movable front mudguard similar to the Spanish made Lambretta Loccomociones models and the English Rally Master Lambretta An article in Scootering claimed that these were TV175's, but based on others experiences in Argentina they were more like Li 150 models.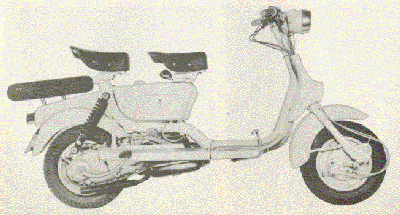 Scootering also claims that production ceased in 1970 and that a total of 2000,000 Siambretta's were produced. However, most of the Siambretta according to the former dealers in Argentina, appeared to stop production sometime in the mid 1960's. Siambretta's were also exported in modest numbers to Uruguay and Chile. During part of the early 1960's Siambretta's were also assembled from parts, in Chile, for the Chilean market.
Scootering featured a photo of a model known as the Super Standard, which was a stream lined cut down version using half legshields, and shortened horn cast, and D forks. It is unclear whether this actually made it into production. It may have been a prototype or something made in small batches after 1971. According to Scootering, the Siambretta tooling was later sold to the Franco brothers, who made a three wheeler version named the Frambretta. Reportedly they are still being produced at the rate of three a week.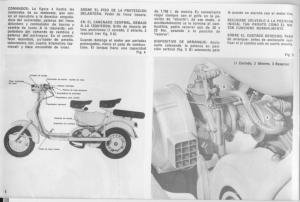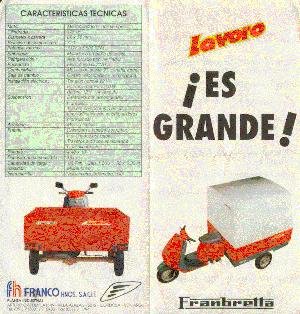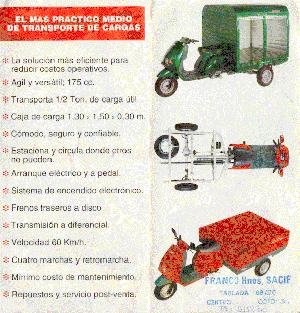 Innocenti's largest market, however, was in Brazil where the firm Lambretta SA began producing D and LD models at least as early as 1956. Later the firm became known as Pasco, after the owner whose name was Pascowitch. Sometime after 1960 Pasco began producing series 2 Lambretta's. In the mid or late 1960's Pasco switched to a version of the TV 175 series 3.
These models were available in a variety of pastel colours that were more appropriate to the 90's than the 70's. Later the firm switched to more conventional metallic colours. In 1971 Pasco was producing 7,000 scooters a year a relatively modest figure considering Brazil's vast population and potential market. At least part of the reason for the failure to realise the scooters full potential lies in the manner in which it was sold. Instead of selling through scooter shops, Pasco sold through retail outlets such as department stores. Parts were handled by auto part suppliers, and repairs were done by independent auto and motorcycle workshops. Very few appeared to have been exported to other South American countries, although some have turned up in the US, Canada and Holland. No information is available on when production ceased, but it is possible that Pasco Lambretta's were made into the 1980's. Vespa of Chicago had a strange cut down version for sale in 1987.

The forth South American country producing Lambretta's (if Argentine and Chilean production are counted separately) was Columbia, where the firm Auteca (Auto Technica Columbia) produced Lambretta's throughout the 1960's and 1970's. By every indication, Auteco did not have full production facilities, but appears to have done merely small scale assembly of components. At various times, Auteco assembled Li Series 3, GP's and Serveta's. All were badged as Auteco Lambretta's. Many of the machines were hybrids.
A Serveta might have parts tacked on from both Li's and GP's. For many years, Auteco assembled both Lambretta's and Kawasaki motorcycles. At some point during the 1970's Lambretta's were dropped. But Scooter production in Columbia lives on. Bajaj is currently building a large plant to supply the South American market. Like for all the other South American Lambretta's, the full story of Auteco Lambretta's still needs to be written. Any one traveling to Latin America or having South American connections ought to make a special effort to research this little know chapter of scooter history. Innocenti also had modest success, in a number of Latin American countries. In Peru, Lambretta's actually outsold Vespa's. Lambretta also did well in El Salvador, Panama and Uruguay. Yet in other countries with huge Vespa sales such as Venezuela and Costa Rica, almost no Lambretta's were sold. In most Latin American countries one sees a widening gap in the ratio of Lambretta's to Vespa's in the years after 1964 - a gap that is due in part to Innocenti's unwillingness to deal with the Lambretta's many mechanical flaws. But this is another story, and one that ultimately defined the failure of Lambretta everywhere.
Central Amercian Lambretta History
Although not a production country Innocenti and many of its licensee's saw the American market as very important, hence the review of this market.
As was true for Vespa, The first Lambretta's to enter the US market were brought in by returning GI's. Rather surprisingly, the first models to be sold in the US were German made NSU Lambretta's, which were imported by a New York based BMW distributor Butler and Smith, staring in 1951. Sometime afterwards, two distributors began importing Italian Lambretta's. Baker and Shalit of New York handled the East Coast, with Anderson Motorcycle Supply of Los Angeles, the West Coast.

The first major breakthrough for Lambretta in the US came in 1955, when Innocenti established an American division. A 125D was offered for $350 Innocenti's checkered history all started in 1955, when Innocenti established an American division. A 125D was offered for $350 and the bigger engine 150D were sold at $450, with the 125LD and 150 LDA electric start being added to the line up late on. Innocenti's move into the American market coincided with the beginning of the first U.S scooter boom, and Innocenti along with Vespa, played a major role in shaping this market. Between the two companies promotion of their scooters was taken to the limits using sophisticated Madison Avenue advertising firms. Advertised widely in major magazines, T.V. shows, T.V. game show prizes, fashion shows, department store displays and even making the front cover of Playboy magazine (June 1959), were some of the promotional activities used. 1957 saw a network establishing itself, with a claimed 350 dealers, with Mongomery Ward selling 125LD models, known as riverside, all bring success to the Lambretta name. Li 125's were selling for $389, Li 150's for $449 and T.V which were selling for $599 but later reduced to $549 all made Innocenti's future look rosy.

However in September 1959, Innocenti began replacing all top management with their Italian family retainers, with the head of Lambretta US, Sinclair Gray, replaced by Andreas Rocco. Soon afterwards the Lambretta market dropped drastically due to all the marketing changes made by the incoming people. Sales were running about one third of Vespa's, with Montgomery Ward Lambretta's accounting for probably around half of these. The most successful dealerships were those paired with Vespa dealerships, with many scooter buyers choosing Lambretta over the Vespa's because of a perceived concern with the lack of proper balance. Colour choice, and greater passenger comfort were others.
This situation continued until late 1962 early 1963, when Honda really pushed its US market with a major advertising campaign, all helping drive up the sales of two wheelers. The stylish series 3 Lambretta's with lower prices and improved dealer profit margins (wholesale L1 125 for $270, retailing at $359) and a 6 month warranty, the longest In the industry, appeared in April 1962 helped Lambretta sales to rise slowly again.

Even as sales still continued to rise in 1963, many problems were starting to arise. Dealerships began to come and go, with the new dealers tending to be low quality – boat dealers, auto dealerships, hardware stores etc. These 'fly-by-night' dealers often lacked the commitment of the new up and coming Japanese motorcycle dealerships, with lack of spares and total incapable of offering even the most basic of service. Innocenti's lack of commitment and advertising, really began the downfall of Lambretta in the US, which despite a few success such as selling 500 TV200 to the New York Police, and good years in 1963/64. Parts supply to dealers (often taking as long as 6 months) undermined further consumer confidence, while dealers gave up with Innocenti in large numbers because of all these problems.

In a desperate move to revive sales in 1965, Innocenti tried to sell 'regional distribution rights for some times as much as $50,000. Many declined, with those taking up the offer soon realising that with the lack of support and commitment, they were on a loser. Seemingly endless, half-hearted, resuscitation attempts followed throughout the years, all ending the same way as Innocenti ended up.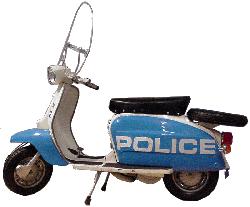 At some point in 1968, for some unknown reason as many as 2,000 Lambretta's were dumped on the US market at rock bottom prices (SX200 going for $295 (where is my cheque book …. Ed)). This was supposedly thought to be due to some bankruptcy scheme and a quick and easy way of selling 2,000 Lambretta's.