For all you old timers on 3 geared - 8 inch wheeled Lambrettas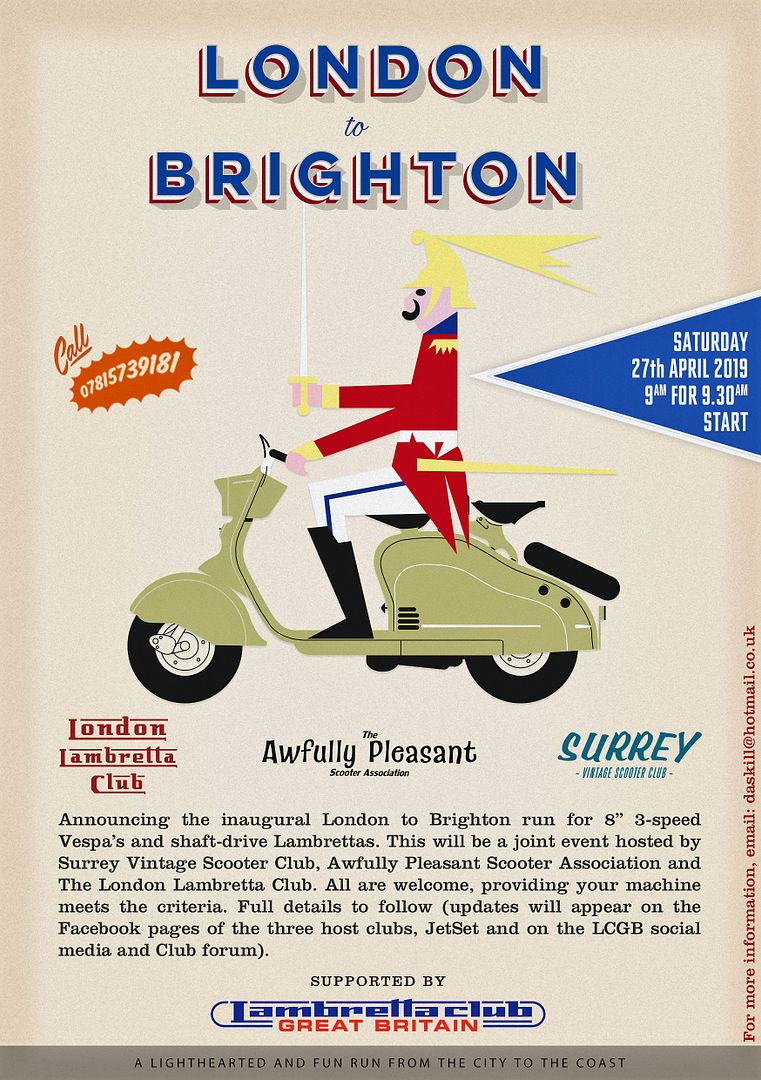 Up-Date: 22-01-19
Surrey Vintage Scooter Club, Awfully Pleasant Scooter Association & London Lambretta Club cordially invite vintage Vespa & Lambretta scooters for a light hearted fun run to the seaside and is open to all if your scooter qualifies for our vintage status. This run is organised specifically for the older vintage scooters that do not normally get the opportunity to gather in numbers. Your Vespa must be of the three-geared 8" wheeled type as Rod, G, GL2, 42L2, 92L2, 152L2 or their Italian/French/Spanish equivalents. Lambretta models included are shaft drive only from A to F including LC & LD and again their foreign equivalents from Germany, France or Spain.


The run will begin at a historic starting point used traditionally for the London to Brighton run by many classic vehicle clubs. From its elevated location, Tattenham Corner at Epsom Downs has an uninterrupted view over our fair capital city of London Village and far beyond. From here, our Southern route towards the coast will take us on minor roads through the counties of Surrey and West Sussex. We shall be pausing at The Devils Dyke to regroup and to take in its fantastic vista over the surrounding countryside before the optional final push to Madera Drive on Brighton Seafront.


To assist in the smooth running of the trip, we have some volunteers who are kindly marshalling on the day with a rear gunner bring up the tail of the pack. In addition to this, the route will be signposted so look out for those little orange signs. In addition to the valued support by scooter clubs, we are lucky to have also been offered support from the Lambretta Club of Great Britain, Veteran Vespa Club, Scooter Nova Magazine, Scooter Lab UK, SIP and Scooter Center Koln. A fine support vehicle has been offered by LCGB on the day to assist in minor breakdowns or recovery back to the start or finish.


As we shall be congregating from 9am for a 9:30am start on the morning of Saturday 27th April, those traveling down early from far and wide on Friday 26th April can congregate at the Premier Inn, Epsom South where we shall be holding an informal 'social evening' in the adjoining Heathside Brewers Fayre Public House. Instructions for the return journey from Brighton and Devils Dyke will be given on the day but we shall be holding a Mk2 social in Epsom Town centre on the Saturday evening to cater for those that wish to stay a second night and recount their tales from the day of vintage scootering larks.


To help us with organising of this 1950's traditionally styled regularity run, we are asking all participants to complete, sign and return an entry form to - matthew@phillipsfireprotection.co.uk
We shall also be asking for each rider to pay an entrance fee of £10 via a Paypal page. All of the money collected will be going to our chosen charity of The London Air Ambulance Service who are celebrating 30 years of flying to save lives in and around London.


So dust off your vintage machine, kick the tyres, top up the fuel tank and see you on 27th April.
Entry Form: https://www.dropbox.com/s/oc2lzq9dbwmg2 ... nh8PdqBeR8


Entrance Fee: https://paypal.me/pools/c/8blh8XEMfg